Meet The Access Avengers
About the Access Avengers: The Access Avengers is a team of multi-cultural, multi-gendered, and multi-ethnic Superheroes with Disabilities, who together assure that we live in an accessible world and seek justice.  They also join forces to disrupt the masculinist "sea of whiteness" and other problematic representations that are so common in mainstream comics and popular culture.
Janice
Age: 43. Joined the team: 2013. Powers: Dimension and Time Travel, Martial Arts. Bio: Warped into the future from the 1960s with her recently discovered powers, her beehive hairdo, and a pleather onesie, Janice is energized from her activist work back in her time, and ready to help the future that is now! Her retractable cane also acts as a bō, as she is a 10th Dan black belt.  Janice is proud of her Latinx heritage and is in ongoing negotiation with her parents' Southern U.S. roots.  Image description: A large, light-skinned woman of color with cat eyeglasses and a brown beehive hairdo, Janice is wearing a full shiny latex, dark grey bodysuit with sleeves reaching all the way to her wrists.  On her latex bodysuit in the square middle of her chest is the Access Avengers logo in gray.  She's wearing a black belt with a seatbelt-like mechanism in the center.  She is holding a bō diagonally across her body in a fighting position.  Her lips are coming together as if she is ready to smile.
Skipper
Age: unknown. Joined the team: 2013. Powers: unknown. Bio:  As Janice's loyal service animal, it is unclear if Skipper has changed as a result of traveling through time. Regardless, he is tirelessly dedicated to Janice and to the Access Avengers. Image description: A small and fluffy, black and white border collie.  Mouth agape in excitement, Skipper is mid-jump toward the audience.
Trevor
Age: 23. Joined the team: 2013. Powers: Super Technical Intelligence, Engineering Prowess. Bio: Trevor returned home disabled after doing a tour in Iraq, having served as a member of the U. S. Army Corps of Engineers, and began working for a large weapons manufacturing company. He left this industry in order to dedicate himself full-time to pursuing accessibility as a form of social justice. Trevor is a work-in-progress when it comes to his white male privilege. Image description: A muscular, light-skinned white man with a duck-butt blonde hairdo, Trevor is seated in a long-distance, athletic wheelchair. His black and white wheelchair has teal accents that are the same color as the Access Avengers logo on the front of his uniform. He has a gray, full latex bodysuit. Trevor's legs end at his knees.  His friends probably would say that he looks like a younger version of Anderson Cooper.
Alexxus/Visor
Age: 20. Joined the team: 2013. Powers: Super Speed, Invincibility. Bio: Also known as "Visor," Alexxus developed hir powers during adolescence in Harlem, having initially hid them due to a fear of exploitation and unacceptance. After meeting Janice and the Access Avengers, Alexxus began using hir super speed and invincibility to support the empowerment of hir local community and the Access Avengers. Alexxus is very open about being a Black, Genderqueer, DeafBlind superhero.  Image description: Alexxus is a muscular, androgynous, dark-skinned person of color of average height, wearing a 360° circular visor that goes around the closely cropped hair on their head. They are wearing a full gray latex bodysuit. On the left and right sides of their chest are images of two American Sign Language (ASL) fingerspelling hands denoting "AA" (Access Avengers). Their gloves, their glasses, their boots, and the ASL images on their chest are dark pink. They are hunched over in a ready-to-run position. Alexxus is signing "C" (for "cripping") in an assertive manner with hir right hand behind hir.
Fiery
Age: 21. Joined the team: 2013. Powers: Flight, Invoking Fire, Telepathy. Bio: Thought missing after taking part in a privately-funded space mission to Mercury, Fiery came back mysteriously onto the scene, spouting fire from her hands and eyes, flying through the air, and with a keen knowledge of others' thoughts and feelings. Fiery is proud of her Dominican American heritage. Image description: A tall, feminine, dark-skinned woman of color, Fiery is wearing a sleeveless, full latex, dark grey to black bodysuit that shows off her "sick guns" (arms). Her long hair, flowing up toward the sky, is the color of fire. Her eyes emanate a white burning brightness, the same as the sun. The front of Fiery's bodysuit / uniform has a red Braille "F" (for Fiery).
Dalton
Age: 55. Joined the team: 2014. Powers: Super Strategic Intelligence, Innate Electricity. Bio: At the HQ of the Access Avengers, Dalton works to ensure, in every way he is able, that his fellow teammates are up to speed and have all of the information necessary to get any job done. When Dalton's electrical powers are activated, his neuron arm tattoo appears. Dalton is a leader in the international neurodiversity pride movement. Dalton is Jewish and bleeds orange without apology. Image description: Standing tall, wearing a white dress shirt and gray slacks, Dalton is a middle-aged man with orange skin and bright blue hair and beard. On his shirt pocket is the Access Avengers logo in bronze hue. He has bushy blue eyebrows and a very stern look. On his shirt collar is a grey infinity symbol representing neurodiversity.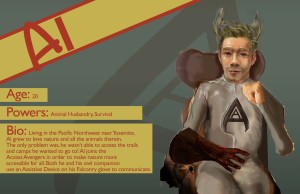 Al
Age: 20. Joined the team: 2016. Powers: Animal Husbandry, Survival. Bio: Living in the Pacific Northwest near Yosemite, Al grew to love nature and all the animals therein. The only problem was, he wasn't able to access the trails and camps he wanted to go to! Al joins the Access Avengers in order to make nature more accessible for all. Both he and his owl companion use an Assistive Device on his Falconry glove, typing to communicate with each other and the world. Al is a first-generation Vietnamese-American who is happy to have joined the team in April, as it celebrates AAPI (Asian American and Pacific Islander) Heritage Month (and in 2016, the Centennial of the U. S. National Park Service). Al is a vibrant member of the CP (Cerebral Palsy) pride movement.  He seeks to raise awareness about mental health issues within refugee communities. Image description: Seated in his power chair, Al emits astuteness and a wise confidence. Wearing a light grey, all latex bodysuit with sleeves that go all the way to the wrists, his uniform bears a dark grey Access Avengers logo at the center of his thin, angular body. The zipping mechanism for his bodysuit goes around the logo. Al is of Asian descent and has a light complexion. His gelled hair looks like a great horned owl's ears.  The brown Falconry glove worn on Al's right arm includes a high-tech keyboard.
Background: The Access Avengers, and the team's logo, were designed by amazing and super-talented Syracuse University alum, Gilles L. Stromberg, especially for "Cripping" the Comic Con.  For more detailed information on how the Access Avengers rose to prominence in 2013 and have continued their work, ever since, please access Gilles's 2015 symposium keynote address, "Don't Call Me an Ally: The Journey Toward Meeting the Access Avengers."  Gilles provides background into the creation of the Access Avengers, and how Gilles's journey through comic books informed the Avengers' creation, along with Gilles's understanding of the importance of representation within media.  In their presentation, Gilles also provides a critical analysis of the word "ally" and the idea of "intersectional activism and advocacy."
Gilles L. Stromberg's 2015 "Cripping" the Comic Con keynote address (with an introduction by Diane R. Wiener) can be found on the Syracuse University Disability Cultural Center's YouTube channel: https://www.youtube.com/watch?v=jAh6JK3TcAc (captioned).