Home
This symposium provided participants with the opportunity to engage in a broad array of reflective discussions about the representations of disability that exist "beneath the surface" and explicitly within mainstream popular cultures both nationally and internationally, particularly the popular culture phenomena that are comic books, graphic novels, and manga.  The first event of its kind took place on April 11, 2013 at Syracuse University in Syracuse, NY.
Planning has already begun for Cripcon 2014!
We will post updates when available to this website, via Twitter (@cripcon) or
on our Facebook page http://www.facebook.com/CrippingTheCon
We want to thank the sponsors of this symposium including the SU Disability Cultural Center, the Center on Human Policy, Disability Student Union (DSU), the Beyond Compliance Coordinating Committee (BCCC), Disability Studies at Syracuse University, the Slutzker Center for International Services (SCIS), and the School of Education Technology Support Group.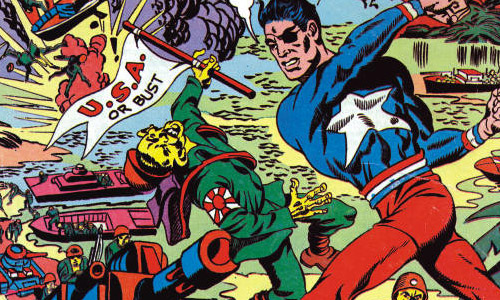 PLEASE NOTE: We recognize in posting this image, arguably a representation that is both racist and imperialist, that some individuals may experience the image as hurtful and offensive. Our intention in posting this image is to underscore and complicate the underlying tensions and intersections that we believe exist between disability, race, nation-state, class, gender, sexual orientation, etc. We wish to utilize this symposium as a space to critique these themes further–among many others. Please contact us with any questions or concerns at: cripcon@gmail.com.
IMAGE SOURCE: http://www.cutprintsave.com/demos/comic_antique/. All images unless otherwise indicated are reproduced here under the professional practice of fair use for the purposes of historical discussion and scholarly interpretation. All characters and images remain the property of their respective copyright holders when credited.